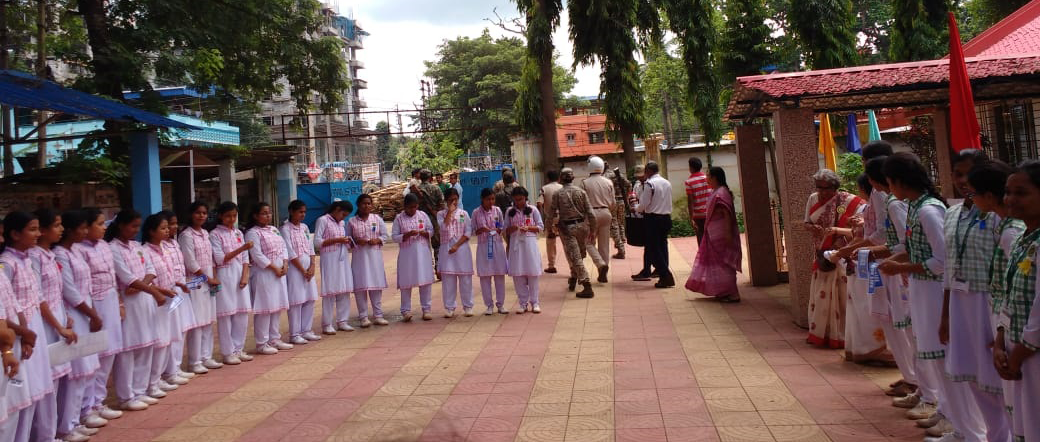 The years between 1929-1950 were the Golden Period of Jhargram estate . In these Twenty one years Jhargram developed into a Township and during this period many educational institutions were established and developed. On the advice of his manager Debendra Mohon Bhattacharjee Raja Saheb (Raja Narasingha Malla Ugal Sanda Deb) has donated and built a house to accommodate a Girls School up to Primary section and it developed up to Class VI and opened by the then magistrate Mr. Burge and the institution was named after his name Burge Memorial School. In the year 1947 further land was acquired and Jhargram Raj constructed Building and the estate to develop it donated a substantial amount to the secondary stage and with the help of the then Chief Minister, Prafulla Chandra Ghosh the institution become pure Govt. School and renamed after the first wife of Raja Saheb Rani Binode Manjuri Govt. Girl's School and it is now one of the best school of West Bengal. It follows W.B.C.H.S.E. board. Every girl dreams to read in this school.
Academic affiliation
The school is affiliated to the"West Bengal Board of Secondary Education" (which holds the Madhyamik exams after grade 10) and "West Bengal Council of Higher Secondary Education" (conducted Higher secondary level or Pre-university level examination).
Uniform
The school students wear White shorts/Churidar with JADE Green Orna, Saffron Sharee. A colored monogram on the shirt pocket has been introduced from last few years. Footwear is black leather shoes with laces.
Students appear for 10+(Madhyamik) examination under West Bengal Board of Secondary Education and 12+(Higher Secondary Examination) examination under West Bengal Council of Higher Secondary Education. Grade 11 and 12 have three streams- Science, Arts and Commerce.